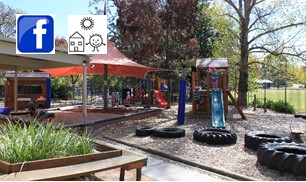 For more of our latest news and updates, please follow the Estrella Facebook page!
NEWS HIGHLIGHTS
Posted 13 October 2020
Posted 20 October 2022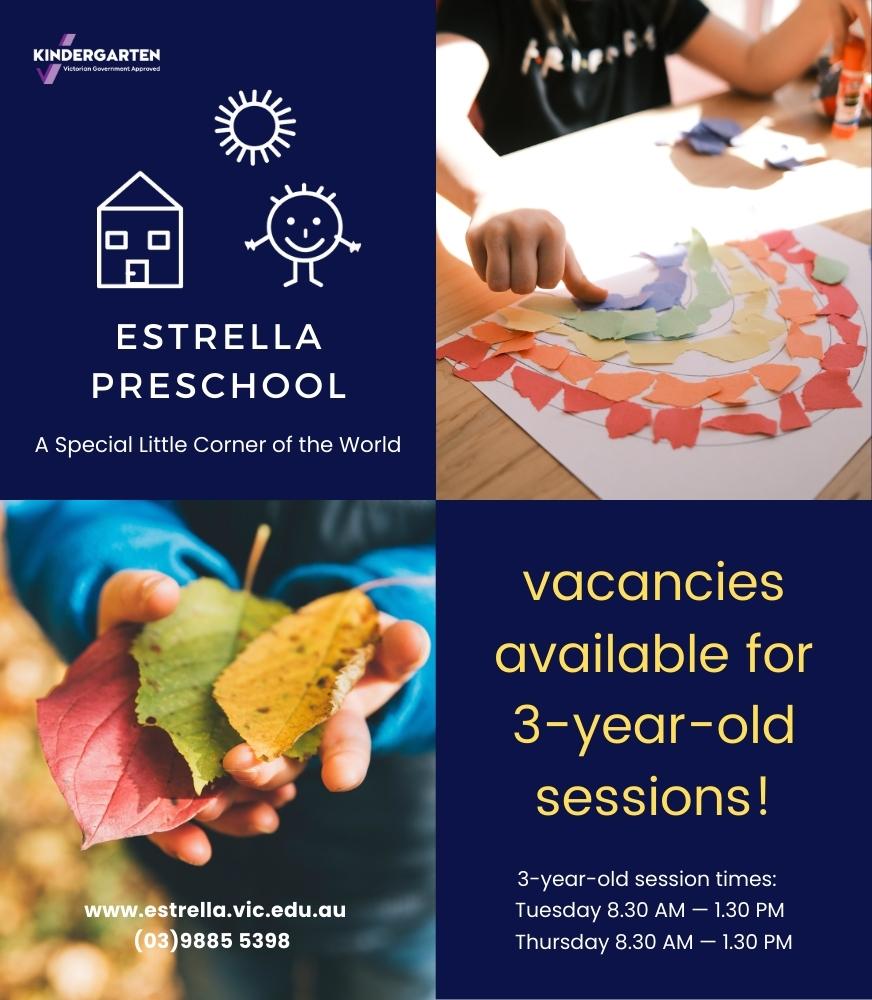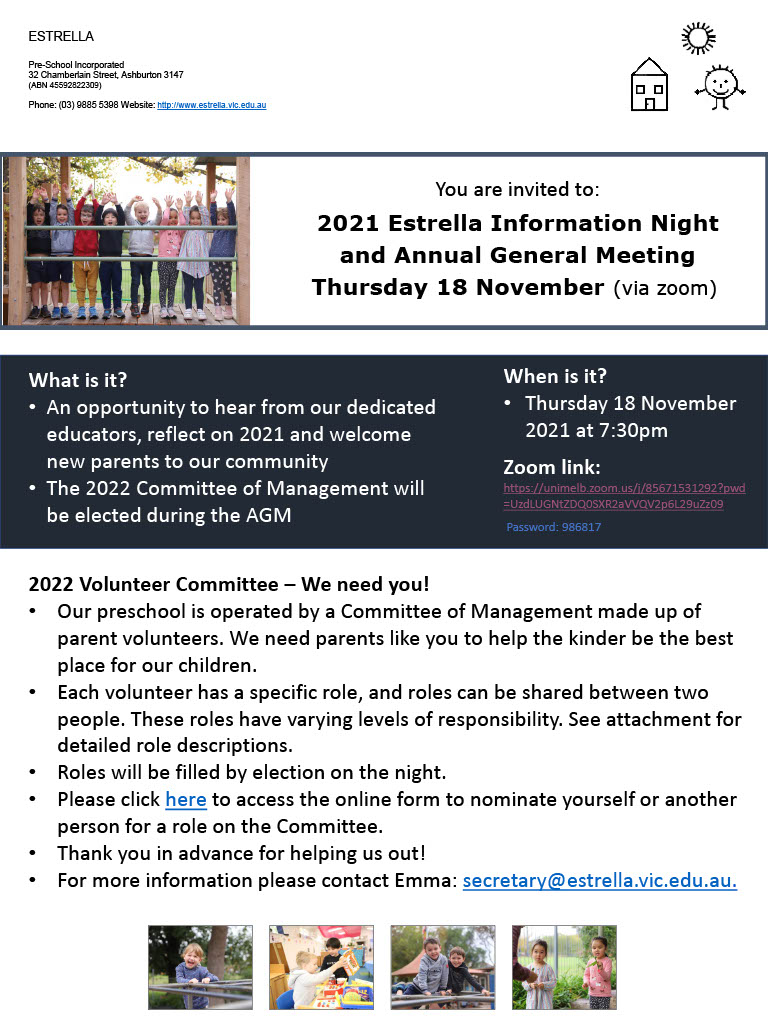 Posted 15 November 2021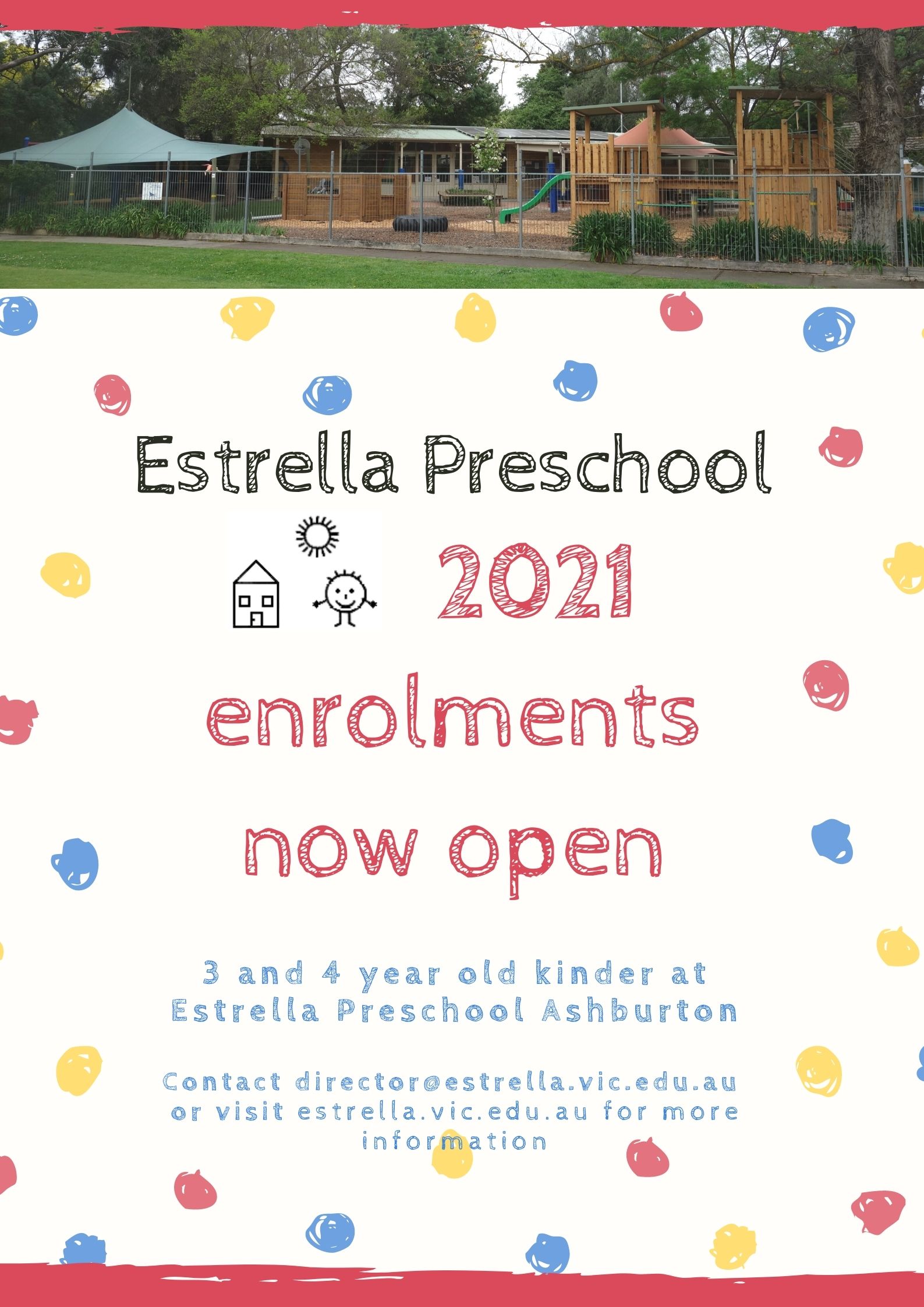 Posted 28 May 2020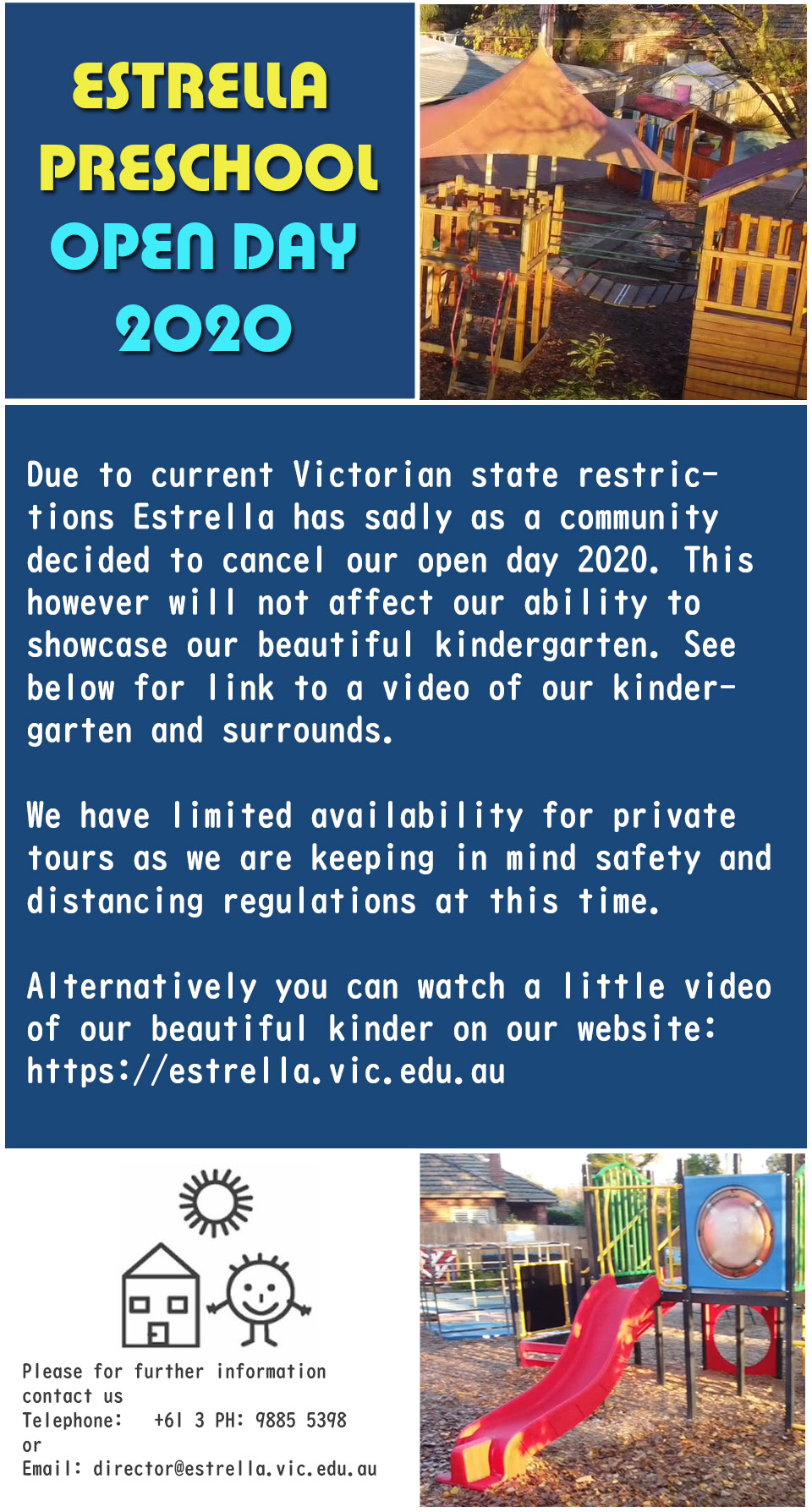 Posted 28 November 2019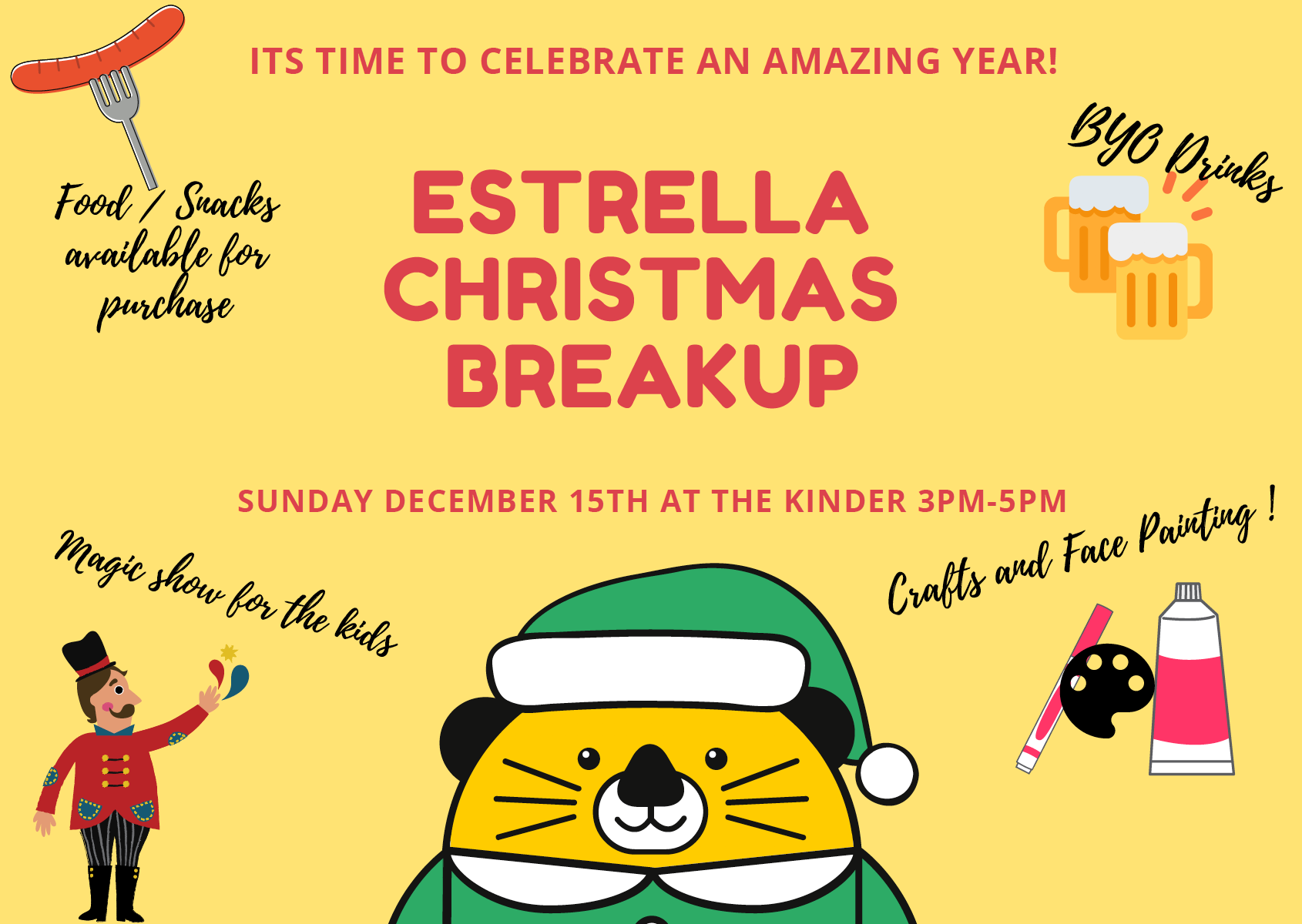 Posted 17 November 2019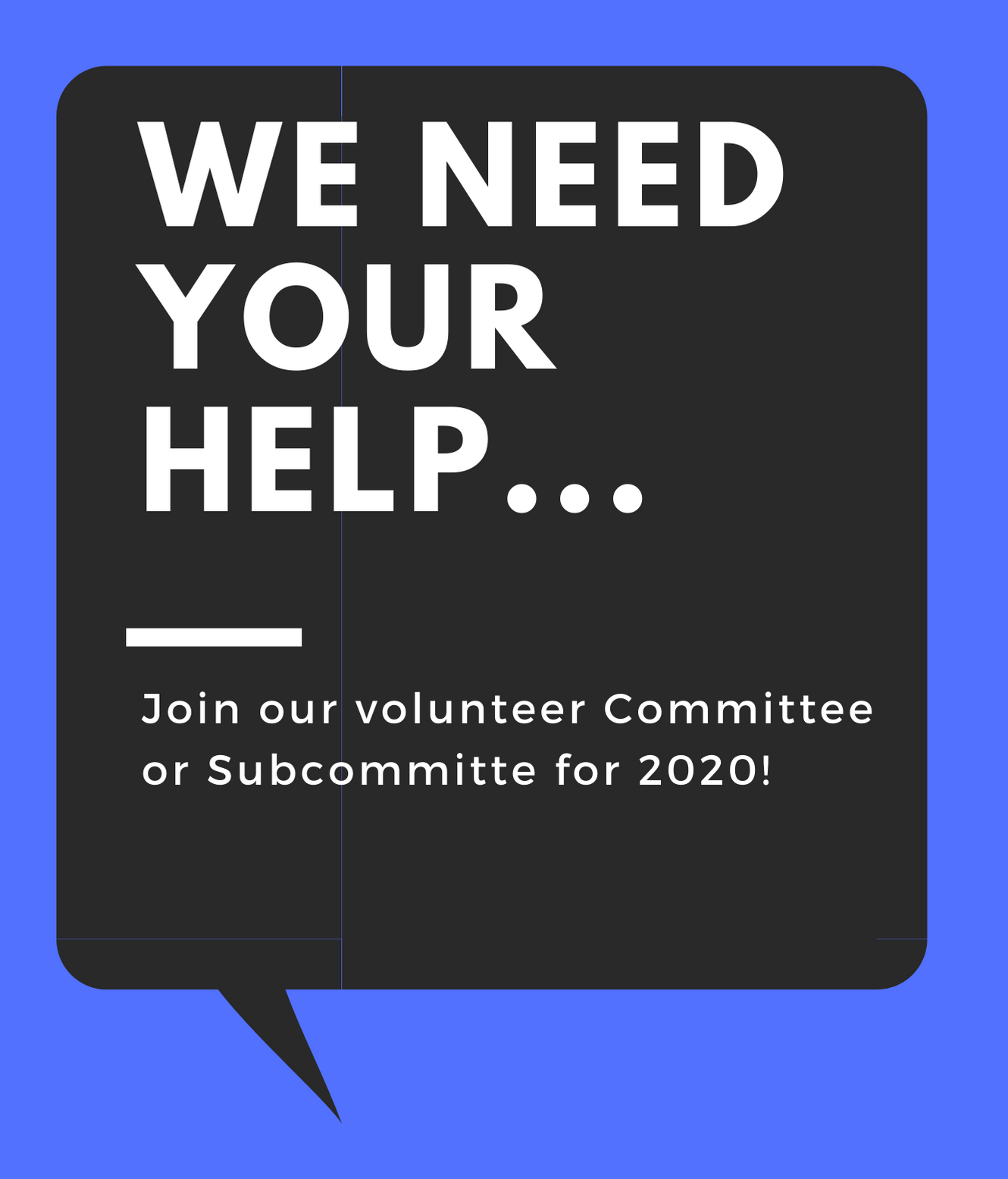 A number of parent volunteer Committee & Subcommittee positions are yet to be filled for 2020.
Help our staff give your child the best start to their education, get to know our wonderful community and have plenty of fun along the way!
Contact secretary@estrella.vic.edu.au for more information.
Posted 18 July 2018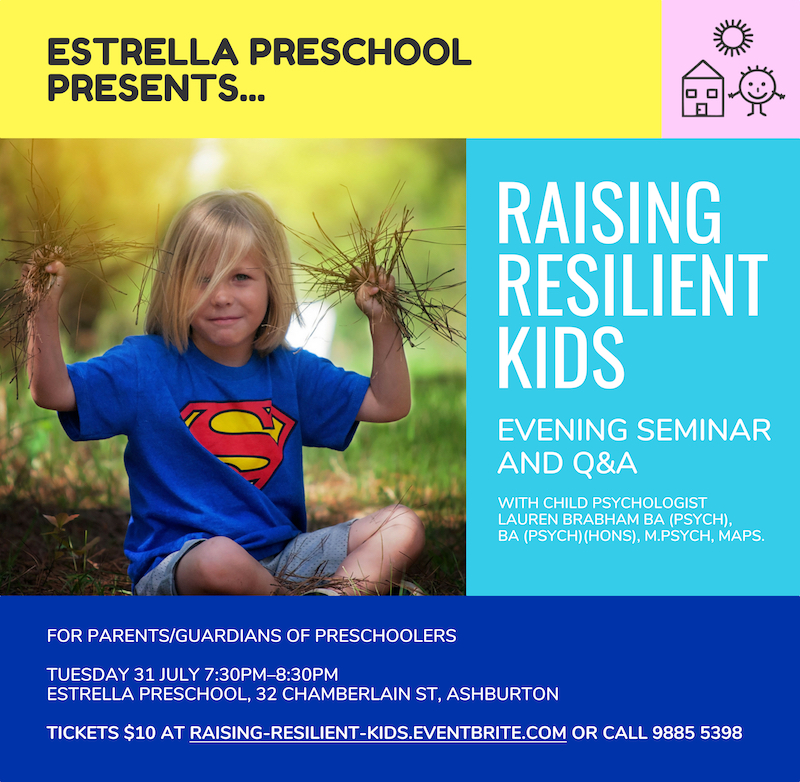 EVENING SEMINAR FOR FAMILIES – RAISING RESILIENT KIDS!
Tuesday 31 May 7:30PM–8:30PM
32 Chamberlain St, Ashburton
Estrella Preschool is hosting an evening seminar on Tuesday 31 July with local child psychologist Lauren Brabham, who will be presenting on emotional development and fostering resilience in our kids.
The seminar will provide an overview of children's emotional development in the preschool years, with a particular focus on resilience in childhood; how to promote "bounce back behaviours"; and how to support your children to successfully navigate and adapt to stressful life events and transitions. The seminar will be followed by Q&A time – to ask questions and to request further information on specific topics.
Tickets are $10 per family at http://raising-resilient-kids.eventbrite.com
Posted 19 March 2018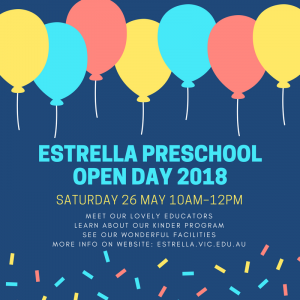 🎉 ESTRELLA PRESCHOOL – OPEN DAY 2018! 🎉
Saturday 26 May 10AM–12PM
32 Chamberlain St, Ashburton
Come and explore our wonderful kindergarten next to Watson Park! Children are welcome to play and investigate our spacious grounds while parents/guardians can meet our warm & friendly educators.
Posted 16 March 2018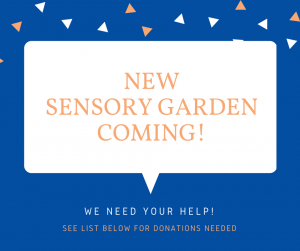 🌺🌷🌱🌾🌿🌻 NEW SENSORY GARDEN FOR ESTRELLA – YOUR HELP NEEDED! 🌺🌷🌱🌾🌿🌻 
A new sensory garden for the children of Estrella to experience is on the way! (See the sketches below for how it's going to look!)
Thanks to a Junior Landcare Grant from Yates, we are able to rework the garden bed between the cubby and the fence into a magical space for children to be engaged by all their senses. There will be plants to look at and to smell, worms to feed, and interactive walls to play with and touch.
But to create the boards we need your help… and your hard rubbish! Do you have any of the following items you could donate to the project? If you do, there is a box near the sign-in book, or please get in touch with Penny from the Sustainability Subcommittee at estrellasustainability@gmail.com
(We'll be updating this list to show if any items have already been kindly donated!)
Small offcuts of astroturf
Smooth river pebbles
Piece of clean corrugated iron
Old metal bowl
Bottle tops
3 large (50cm or so) terracotta pots
Large gumnuts
Hardwood posts
Sturdy pinwheel or windmill
Strong plastic containers
Small oval mirrors (safety glass)
Wooden wheels and axles (e.g. from old toys)
Large toothed wooden gears
Old xylophone (to be dismantled)
Old washing machine engine (in particular, the drive belt)
Thank you so much!
Posted 23 October 2017
2017 AGM – Thursday 16th November
All 2017 and 2018 families are invited to the Estrella AGM and information night to be held at 7.30pm on Thursday 16th November at the preschool (32 Chamberlain St, Ashburton).
Please come along to meet our teachers and fellow parents, and to learn more about the kinder program.   Information booklets will be handed out – these contain useful info about the preschool as well as dates for 2018.
Elections for the 2018 Committee of Management and subcommittee will also be conducted.  Position descriptions (including work-load and time-commitments) can be found on the Committee of Management page.  Nominations can be forwarded to the secretary: secretary@estrella.vic.edu.au.
Posted 26 September 2017
Official opening of our new digging patch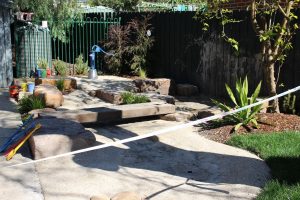 Pack an extra set of clothes.  Perhaps 2 extra sets of socks!  The digging patch is officially open. There's a water pump at the top which flows down a pebble creek bed and is surrounded by rocks and plants.  There's a digging pit full of dirt, water and mud so you can be sure that the play is going to be messy and fun.
It's designed to enable our children to engage fully with the natural environment.  Messy play, particularly outdoors in nature, invites children to engage in open-ended interactions, spontaneity, risk-taking, exploration, discovery and connection with nature.  It provides opportunities for children to increase their physical skills, develop self-esteem, increase confidence, engage with others increasing language and social skills, support cognitive development (problem solving, lateral thinking, hypothesizing, investigating), increase awareness of the environment and sustainability, and much more.
The new digging patch play space was designed and constructed by Phil Stray from Crafted Landscapes who worked closely with our teachers and Committee members in the design phase.  It was funded by grant money obtained under the Commonwealth Government's 2016 Stronger Communities Programme as well as contributions by Estrella's families and fundraising activities.  It was officially opened by Kelly O'Dwyer (MP) on Thursday 31st August.  Thank you to everyone who was involved in this project.
Posted 17 June 2017
Estrella's Philosophy
The Estrella Philosophy document underpins everything we do at kinder.  It covers things like family centered practices, our view of the child and how children learn.  We're currently reviewing our philosophy and we'd love lots of input from current kinder families.  What do you think is important for our children?  What do you value most? What is special about Estrella? What is important for our children to experience/learn?
Please fill out the 'hand' that was in your communication pocket and return it to the display or the red box.
Posted 20 April, 2017
New session times for 2018
Many thanks to all those who responded to the 2018 Session Times survey via Survey Monkey. As a
result of the feedback, and following consultation with staff, the Estrella Committee of Management
has decided to change the session times for 2018.  The new session times will commence from Term 1 2018.
All families who have applied for a 2018 place are advised to check their preferences.  Changes can be made by submitting the "change of application details" form available on the BKCES website.  The deadline for changing preferences is 30th June 2017. All allocations, including 3yo going into 4yo, are processed by BKCES (ph: 9278 4444 or email: bkces@boroondara.vic.gov.au)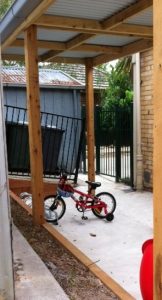 Posted 2 February, 2017
New bike rack
Students who choose to bike or scooter to kinder this year will find a brand new area for parking.  Completed over the summer break the bike area has a roof, a concrete pad for easy access from the back gate, a bike rack for bigger bikes and plenty of free space for scooters and smaller bikes.  This new addition to our kinder also creates some extra storage space.  Estrella Preschool would like to thank the Commonwealth Government Stronger Communities Programme and the Exxon Mobile Australia Volunteer Involvement Program for providing grant funds for this project.